04 May

Books, Pizza, and Birth… Oh My!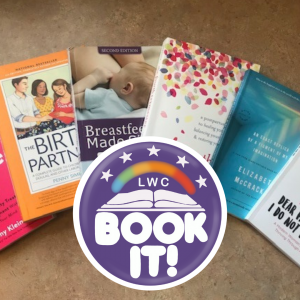 This past March, we were feeling the 90s nostalgia at Lifecycle WomanCare.
Our Book-It Book Drive campaign was reminiscent of elementary school days when reading books helped you earn a free personal pizza.
Except this time, the LWC community helped to fill the shelves of our lending libraries in Bryn Mawr and South Philly with new books, and one of our donors was randomly selected to receive a Door Dash gift card to enjoy a pizza dinner on us.
We were blown away by the incredible response and enthusiasm to this campaign, and want to extend our sincere thanks to everyone who supported the Book-It Book Drive. Thanks to your generosity, we received over 100 NEW BOOKS. Clients have been enjoying the new reading material about birth, postpartum, lactation, fertility, menopause, and more.
While our Book-It campaign may be over, we will continue to accept book donations and have several titles left on our wish list. Check it out here.
We are also happy to accept second-hand copies (most recent editions only, please). Books can be mailed or dropped off to:
918 County Line Road
Bryn Mawr, PA 19010
If you would like to donate titles that are not included on our wish list, please email ngraham@lifecyclewomancare.org.
Thank you again for your support and happy reading!