09 Jan

Lifecycle Legacy: Baby 1,216 Gives Birth to Baby 12,788

In some families, the Lifecycle WomanCare roots run deep. For Amy, who was LWC baby number 1,216, her LWC story came full circle this past October when she gave birth to baby number 12,788. Here it is, in her words: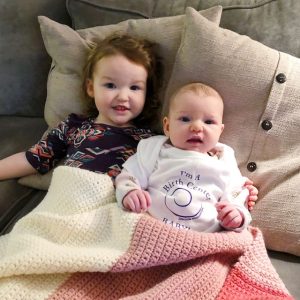 "You're the only one who can" are the words I heard from my incredible midwife, Heather. She was encouraging me to keep going after I tearfully exclaimed "I can't do it!"
After experiencing early labor for 3 weeks straight, of which included multiple trips to the Birth Center with intense, close contractions that always came to a halt as I arrived (quite a frustrating experience), I was dilated and effaced enough that it was time to break my water and see if I would go into active labor and avoid a hospital induction. I had a pretty traumatic hospital induction with my first baby and wanted to avoid it at all costs.
It worked immediately- as soon as Heather broke my bag of waters, I went into transition within 1 minute. The first contraction was intense and a rush of emotions quickly surfaced. I cried uncontrollably and was relieved to finally be on the way to meeting my sweet baby.
Transition was fast and furious. I could feel my daughter dropping down inside me as each contraction hit. I stood bent over at a counter in the room for the first few waves, I moved to the toilet and started to feel the urge to push. I then moved to the bed and spent time on my knees, with my chest propped up on a yoga ball.
Heather was beyond incredible and locked eyes with me in between contractions to tell me what position I should get in so that my baby would move further down. She had me adjust every movement very carefully and helped me to use my body and gravity to my advantage.
As I pushed, I could hear my labor playlist (comprised of mostly songs I had learned of from Grey's Anatomy episodes) in the background and I was surrounded by what felt like a village. My village. My dear mom and sister acted like doulas- they held my hands and praised me for my hard work. My midwife, Heather was joined by another wonderful midwife, Carol, our fabulous nurse, Jess, the most incredible midwifery student, Kim and a fantastic Nursing student. My husband provided me with amazing support as he held me, rubbed my back and encouraged me through every single moment (including throughout my pregnancy and through my frustrating 3 weeks of early labor). I could not have done this without him.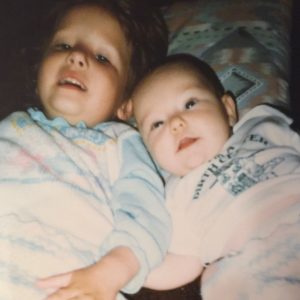 I worked harder and harder and pushed my sweet Emma Elizabeth til she was caught in the arms of Kim. I am beyond grateful that Kim was present at the birth of Emma as she provided me with so much support and I felt truly cared for by her!
After almost 42 weeks, Emma was passed up through my legs and I finally got to hold my baby girl. I got my birth center birth- something I wanted so badly! This birth center is very special to me as it's the same place I was born! I am Birth Center Baby number 1,216.
From my prenatal appointments- to my labor- to my postpartum care, I was supported by so many incredible women. I have been cared for in the most amazing way possible and I love each and every staff member I encountered on my journey. Thank you, Lifecycle WomenCare for the best experience possible!
The first image [above] is of my two daughters, Lucy and Emma. Emma is wearing her "I'm a Birth Center Baby" shirt. The second image is of my older sister, Holly and I. I am wearing my "I'm a Birth Center Baby" shirt, too!